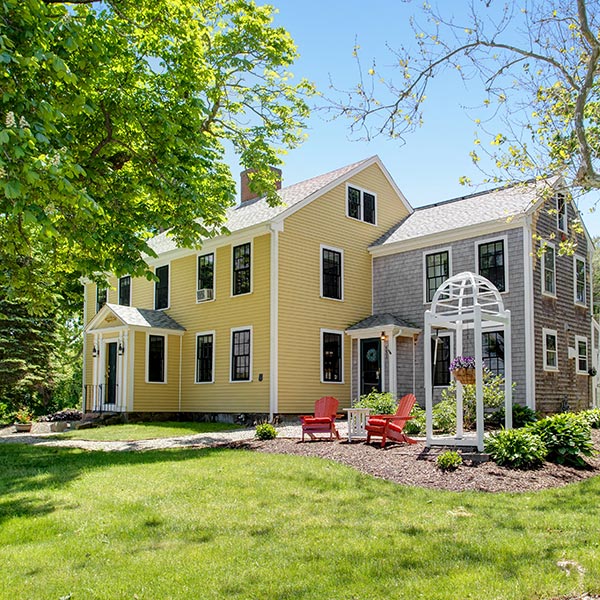 Amenities in this accommodation
The Farmhouse has five ensuite bedrooms. On the ground floor is Cap'n Jack, a master suite with a king bed, spa tub/shower, and a fold-out secretary desk next to the fireplace. Perfect for guests with limited mobility, this room honors Mad Captain Jack Percival, West Barnstable's most famous resident, a pirate hunter for the U.S. government and a friend of the Bursley boys. It overlooks the pond across historic and beautiful Route 6a, the Old King's Highway.
Doors on either side of Cap'n Jack lead into separate lounges with fireplaces, one wood-burning, the other gas. To the right of the gas fireplace is the manor's original beehive oven, and this lounge is also where you'll find the powder room. There, tucked behind a curtain, is your private laundry.
Both lounges feed into the dining room, with an antique mahogany table for 12 – even 14 if you're happy to squeeze a bit. Beyond is the roomy chef's kitchen. Fully equipped with modern amenities, dishes, glasses, utensils, and cookware, the kitchen has two separate sinks, two refrigerators, a FiveStar two-oven professional range with six burners, and a pub table for 10.
Outside the kitchen door to the left is the south patio, with gas and charcoal grills, a fire pit, and outdoor dining. It's a great place to watch hummingbirds, goldfinches and other birds at the feeders, and you'll find birdseed in the aluminum can outside the kitchen window. To the right of the kitchen door is the outdoor hot-and-cold shower.
Upstairs you'll find the other four bedrooms. Lighthouse is a second master suite with a king bed, a spa tub for two, and a separate shower. It also overlooks the pond. Next door is Moby Dick, another king room, with a spa tub/shower combination, and closer views of the pond.
Behind Moby Dick is Mermaid, a king room with spa tub/shower and a cushioned reading nook overlooking the south patio and hydrangea beds. It adjoins Moby Dick, but the door can be locked for privacy or left open to create a suite. Finally, there is Old Glory, a queen room above the kitchen with a deep soaking tub. Though smaller, Old Glory is always a favorite because of the bright and airy aspect brought to it by windows on three sides.